International Food and Wine Experience comes to Charlottesville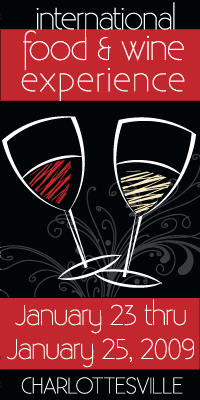 Update Wednesday, January 14, 2009: The International Food and Wine Experience of Charlottesville (IFWEOC) announced today that the highly anticipated inaugural event is being rescheduled. The new dates for the Experience, to be held in Downtown Charlottesville, are July 31 through August 2, 2009.
***
We, the Dish, love it when locals make New Year's resolutions to try new experiences and educate themselves about food and wine. If this is not on your list yet, it's a good year to add it.

The International Food and Wine Experience of Charlottesville takes place January 23-25, 2009. (For Dish, this is the time when the "get in shape" resolution wears off and the winter slump sets in. Good timing.)

It's the festival's inaugural year, and the lineup of guest chefs, participating wineries, local restaurants, and seminar topics is impressive. And, whether you are a connoisseur or amateur, the experience will meet you at your level–wine will be paired with French cuisine and fried chicken over the course of the weekend.

Timothy O'Brien, who was named President of the organization in September, is proud of the program and hopes the local community will embrace it. "While I think the entire event will be fun, the Sideways showing, along with the Pinot Noirs tastings, promises to be the most fun event. This concept is really out-of-the-box and innovative."

O'Brien was tapped for leadership by George Benford of Siips Wine & Champagne Bar on the downtown mall, who conceived the idea of an east coast food and wine festival in a new market–New York and South Beach held annual festivals in October and February 2008, respectively.

When O'Brien and a team of local players in the food and wine industries started making phone calls, O'Brien reports the response was one of excitement, as ours is "an untapped market for many of these wineries."

Seminars and tastings will take place all day and start at $35 for individual tickets; a portion of proceeds go toward college scholarships, which will be managed by a community fund.

An ever-growing list of wineries will participate in a Grand Tasting on Friday, January 23 at the Omni Hotel. (Presently, about 40 wineries have committed; tickets are $125.) Saturday's schedule starts early, with nine restaurants hosting breakfasts with bubbly ($45-$75), takes an interesting turn with a blind tasting at the Omni at 1:30pm ($40), and closes with a Gala Dinner on Saturday evening at 7:30pm, featuring guest chef Todd Jurich of Norfolk and the Unexpected Boys, who will be covering–oh, what a night!–Frankie Valli and the 4 Seasons hits ($229). We hope for clear skies and heavy pours.

Dish checked in with a local wine expert for his take on the International Food and Wine Experience. Paul Coleman, owner of Crush Wine Shop in Belmont, says he's been hearing about it through the grapevine (specifically, distributors, other wine shop owners, advertising, and Benford himself). "My initial impression is that it has been modeled after several other successful events around the country, so it certainly has the potential to be successful," Coleman says, citing interesting programming and strong participation from wineries around the world. "My only concern would be that it's a brand new event, so it may take a couple of years to gain a reputation. However, I hope they are very successful, as it will certainly help the wine and food industry in this area."

And that is exactly what the organizers set out to do. "What we want to do is raise the Virginia wine industry–give it further exposure and opportunity for growth," O'Brien says.

Individual event tickets and packages are on sale at www.ifweoc.com.